Meet Knoq
At Knoq (formerly known as Polis) we are building a world where people talk to each other in person. Research shows that interacting with people in person can improve your sense of belonging and overall happiness, even when making choices on what we buy. Ultimately, we are making the world a more genuine place where we all want to live.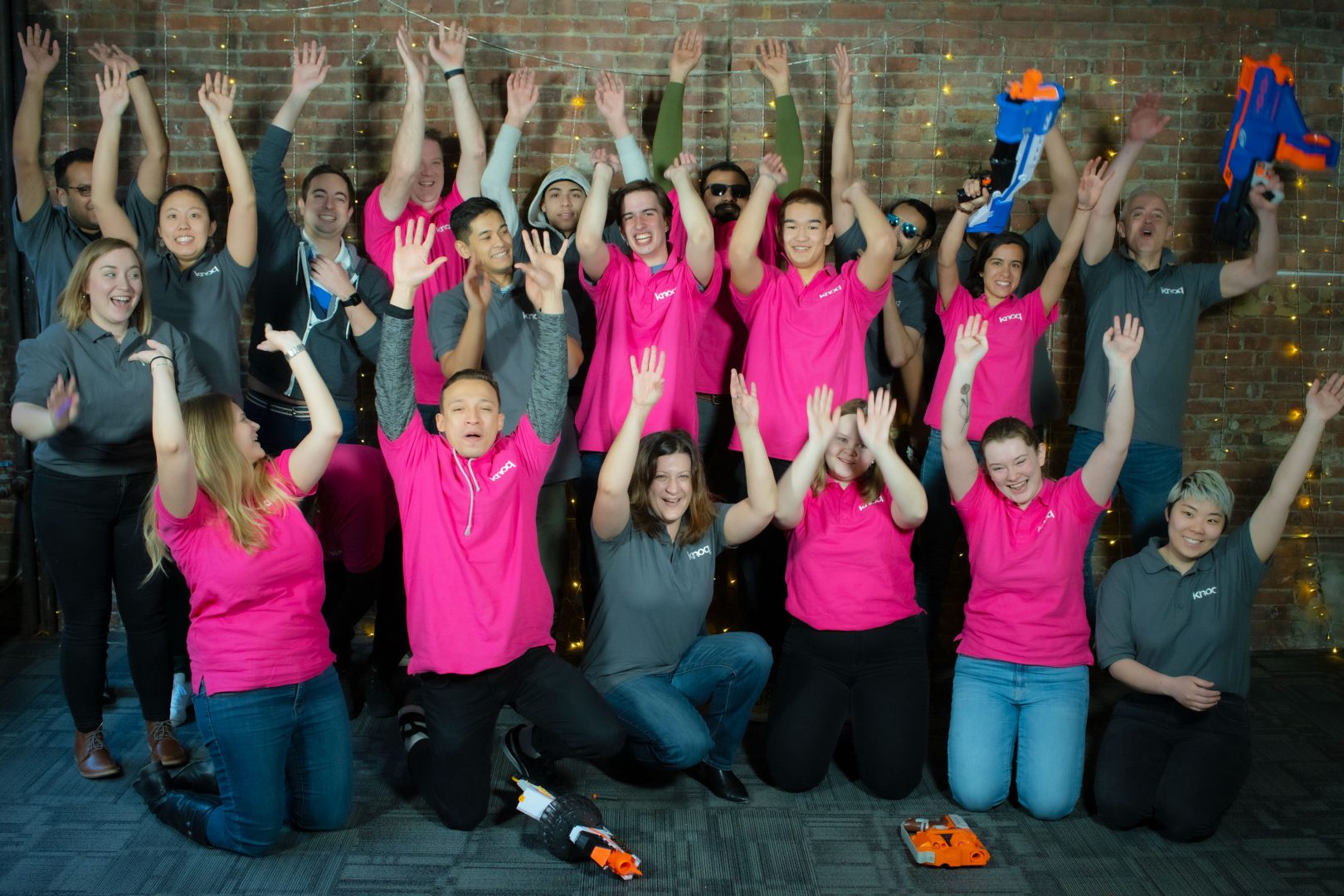 We are driven by our values

Motivated
Pushing ourselves to be the best we can be

Supporting others so that they can reach their success

Understanding that we are one team and we either win or lose together

Intelligent
Aiming for the best, quickest solution to a problem

Building long-lasting foundations that can be improved on

Asking hard questions to find the right answers and not just the easy answers

Kind
Respecting opinions different than our own

Being open-minded

Celebrating diversity
Knoq is a technology company that encourages people to talk to their neighbors. Our technology recruits, trains and guides neighborhood representatives (Knoqers) to go out into their own neighborhoods and talk to people about products and services that can make their lives better. Our platform has been used by Google Fiber, NRG, Inspire Energy, Fluent Home Security and many other direct-to-home brands. We are growing 500% YoY and are hiring 200+ people this year. We are backed by Haystack VC, Initialized, Liquid2 Ventures, Fathom Capital, Background Capital and Techstars.
Kendall Tucker

Founder, CEO

Prior to founding Knoq, Kendall was a consultant at Parthenon-EY where she advised the executives of multi-national corporations and Fortune 500 companies. She received her B.A. from Columbia University and attended the University of Oxford. Kendall has been featured in Forbes, TechCrunch, the Washington Post and the Boston Globe.

Sarah Baker

VP Operations

Sarah joined Knoq with more than 10 years in operational experience. Most recently she was VP of Customer Experience at Hopper where she grew her team from 2 to almost 200. She is passionate about establishing sustainable process and empowering teams to accomplish more than they ever thought possible.

Mike Garon

VP Engineering

Mike spent the last 20 years building engineering teams to deliver new technology. He has helped build networked robots, IoT appliances, AAA video games, consumer hardware and cybersecurity products. He loves building powerful teams as much as he loves the tech.

Don Andrade

CFO

After graduating from Bryant University with a bachelor's in accounting, Don went on to spend 27 years at Deloitte working his way up to a partner. After Deloitte, Don began to work with several successful startups including Jana, Stratega Therapeutics, Mirata, and Spirata. His precision for detail and passion for numbers led him to Knoq in 2019 as our CFO.

Dani Brehm

Director of Recruiting

Dani has spent the past 9 years recruiting top talent for Boston tech companies. After graduating from Bentley University, Dani started her career at Rue La La helping them scale their production teams. Most recently, she spent the past 4.5 years at TripAdvisor recruiting for roles and teams throughout the business. Dani's passion is helping companies hire great talent and building out best in class recruiting teams.

Sissi Li Zhou

Head of Customer Success

Sissi joined Polis after graduating from Northeastern University with a BS in Economics and minors in Business and Political Science. She was born and raised in Mexico City, and will jump at every opportunity she has to talk about Mexico (you've been warned). Sissi represented Mexico and Northeastern University at the World Debating Championships, but gave up her career in arguing with people to help our awesome customers at Polis!

Brett Nielsen

Sales Advisor

Brett comes to Knoq by way of Skyrocket Media where he was responsible for building long-term strategic partnerships, growing business revenue 880% leading to a #27 rank on the Inc. 500 list. He also earned Utah Business 40 Under 40 Honors for his leadership in business development and his work with various Fortune 500 companies. Previous to that, Brett worked in organizational leadership roles for presidential and congressional campaigns and was also a successful direct sales representative. Brett holds a B.A. from Utah Valley University and an M.A. from Kings College London.
Pam Abel

Vice President Sales Operations, Enablement & Tooling, AT&T

Ryan Costello

Congressman

Semyon Dukach

Managing Partner, One Way Ventures

Stephen Hackley

SVP & GM Northeast Division, Comcast Business

Chris Jenny

Former President, EY-Parthenon

Soner Kanlier

CEO/Co-Founder, NEDD, Former VP of Competitive Energy at DNV GL

Nicco Mele

Director, Shorenstein Center at Harvard and Former Digital Director, Howard Dean for President

Elise Rubin

Global Head of Program Management, Product Launch & International Expansion, Google Home & Nest

James Steffes

Executive Vice President, Direct Energy

Chris Wake

Entrepreneur

Matt Waldrip

Chief of Staff, Senator Mitt Romney

Walker Wright

VP of Policy & Strategy Group Director, ENGIE